The Ready Made Project: Record Player by using IKEA kitchen accessories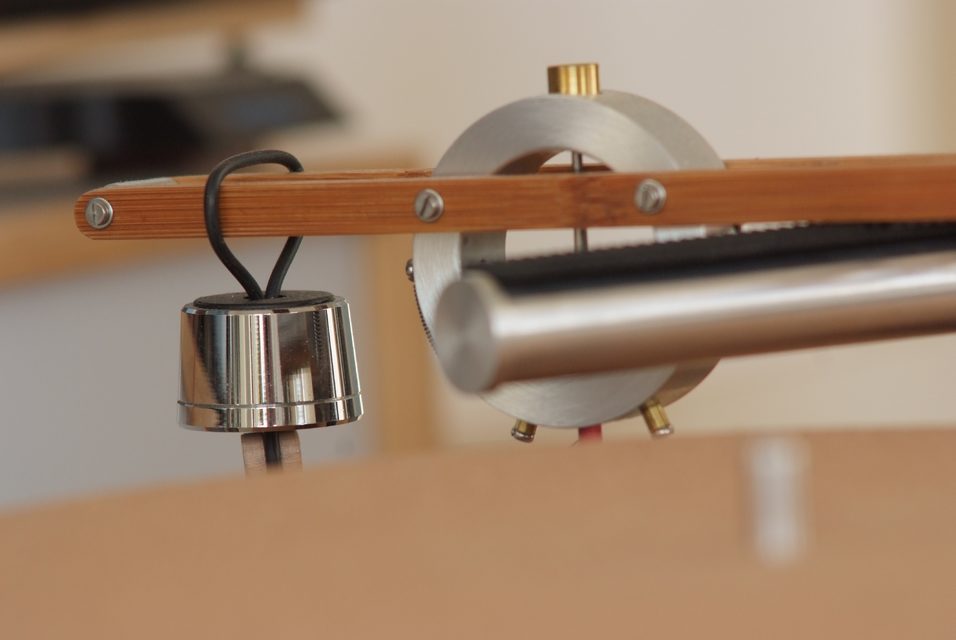 Tonearm in regular life was a wok pliers, sold by IKEA in a set of three units. This is the longest one, used to build up a tonearm with 10 inch effective length. 12 inch lenght is possible too
Sounds NOT like knocking on cheap furniture. This record player was build by using houshold items from the stock of swedish furnishing company "IKEA":
1. The platter = Chop block "Trendig", bamboo, dia 30 cm
2. The basis = Cutting plate "Aptitlig", bamboo, 36 x 45 cm
3. Tone arm = Wok pliers, bamboo
4. Pattern mat = table liers, cork
5. Motor cover = flowerpot, chromesteel
Other parts:
One point bearing tonearm made out of a metal marker needle and a brass screw M6. Tonearm basis teak, fixed by M8 scew to the board. Tone arm lift excenter type with Fender poti knob.

Pattern main bearing made out of a hardened machine pin, dia 10 mm and two sinter bushings. Axial bearing teflon
Motor: Synchronus 24 V/AC fabricated by Stegmann/Donaueschingen (NOS). AC-Power supply from a modelling railway (Titan)

String: 2 mm rubber string, transformed into a big O-ring by second glue (for exact result glued together in a half pipe tool, prepared with teflon spray. So the glue sticks only to the rubber surface)

Pulley: Made out of teak, fixed by M4 screw to motor axle
Plus some parts from the hardware store
Mark II-version with second ground plate, isolated from basis by air filter foam.
Result: Money doesn't matter. For about 100 Euros (including system) this machine works just fine. Also note pictures shown on german site. Thanks for enjoying.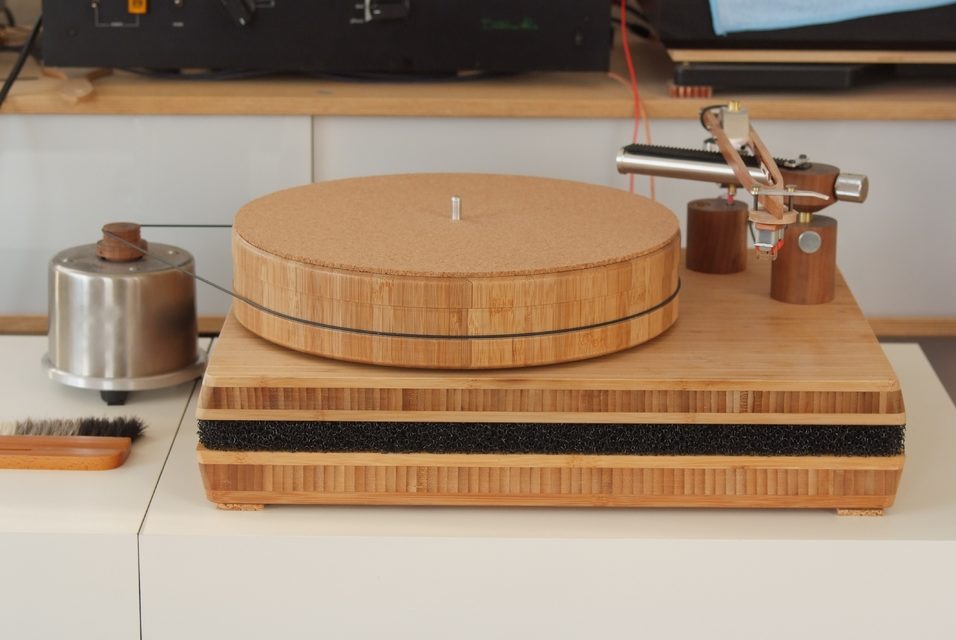 Ikea record player Mark II. Second ground plate improves sound stage and glory of bass frequencies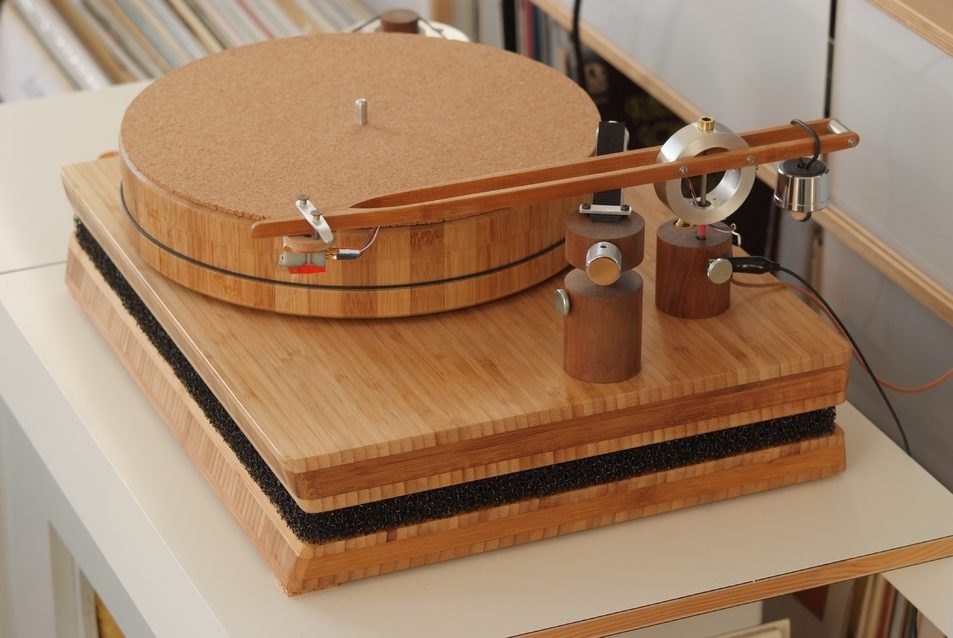 Tonearm made from a wok pliers. One point bearing, stabilized by a nylon string on bottom of the metal ring (alloy). Counter weight from an old player, fixed with a rubber ring for decoupling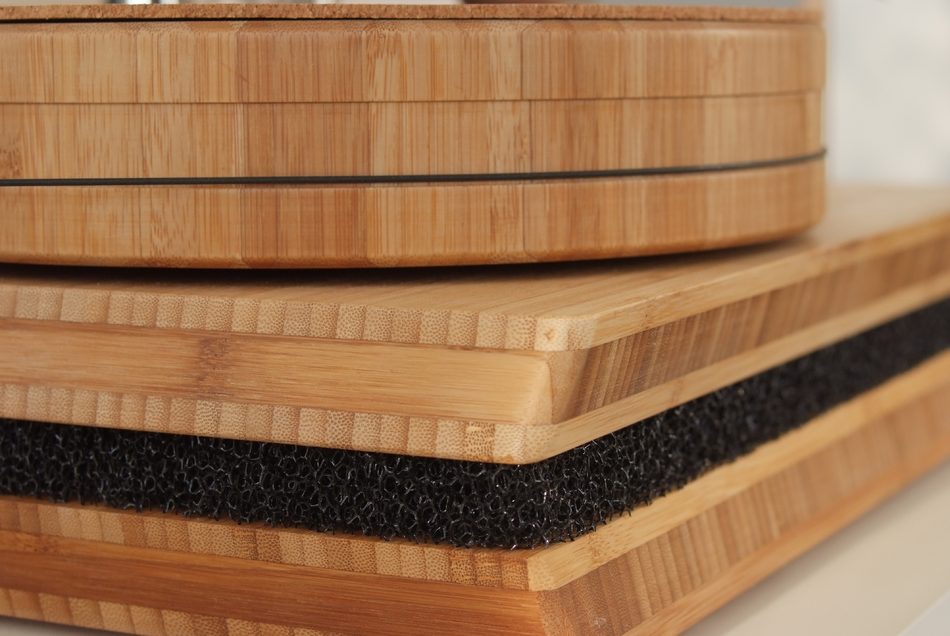 Ground plates isolated by air filter foam. Nice bamboo look also. The wooden parts are manufactured very preciesly by the IKEA contributers. Note: The bamboo pattern is no longer available at Ikea (November 2014)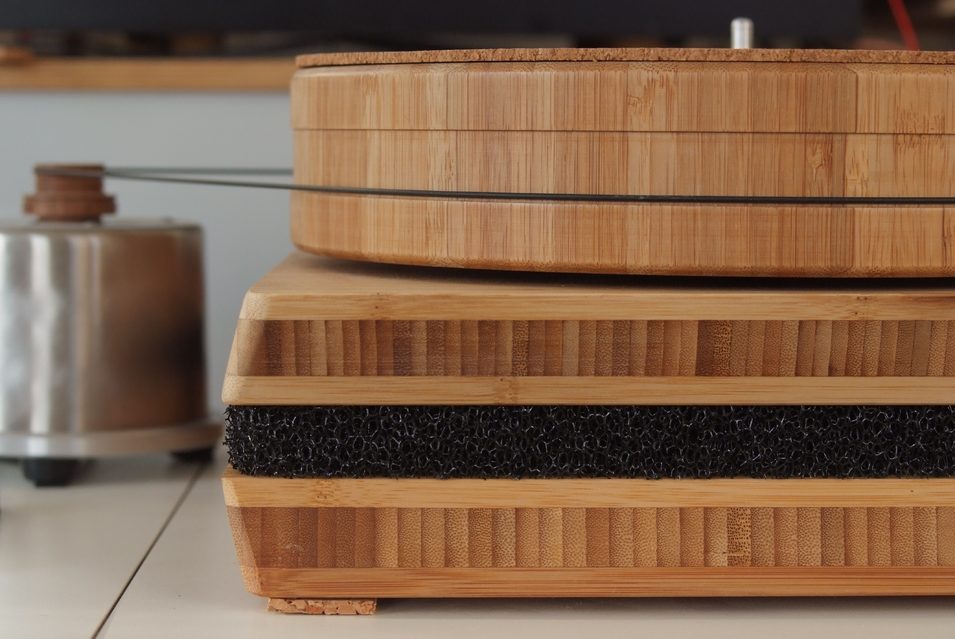 Player is standing on just three cork pads sized 30 x 30 mm. Feel free in trying other stuff